Hello,friends!Welcome you again.
I'm glad to tell you about our pillow and linked products.
When we finish our work or study,most of us may choose to lean against the pillow to relax ourselves.Therefore,the pillow is a necessity in our lives.We can see the pillow around our couch,bed and so on.
When we enjoy the convenience from the pillow,we usually consider how to choose the pillow with better sense of experience.So,there are some beneficial tips for you to take.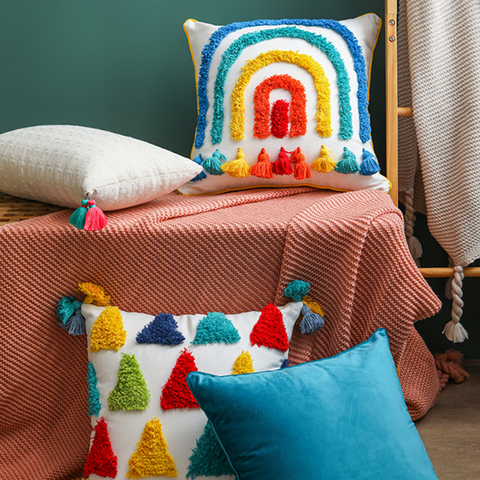 How to choose the soft pillow?
Our attention should be pay on the material of the pillow.The soft and smooth material can provide us high experience and relieve our fatigue.Most of our products are made of cotton or material with kind texture.
How to choose the pillow cover you like?
Our brands have various pillow covers with different colors and styles.You can pick one you like and match your pillow.Different pillow covers suit different occasions.It can decorate your house and protect your pillow.The pillow as the necessity in our daily life ,we hope to extend its time of using.As a result,choosing a durable and pretty pillow cover is significant.
The pillow cover also have different materials,such as cotton,polyester,hemp and so on.According to our preferences and the decoration style about our home ,we make the choice finally.On one hand, the pillow cover keep the liner clean.On the other hand,it can act as a decoration,giving the color to our home.
Here are our products
follow your heart and take them home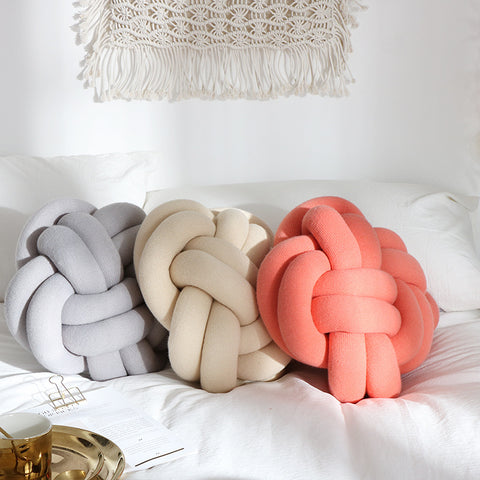 Made of acrylic fibers.Solid knotted throw pillow is different from other common pillow.The special shape and texture can make your house active and special.Flower-shaped pillow may attract your children's attention,it can act as the plush toys for your kids.It also gives you a soft touch and high flexibility.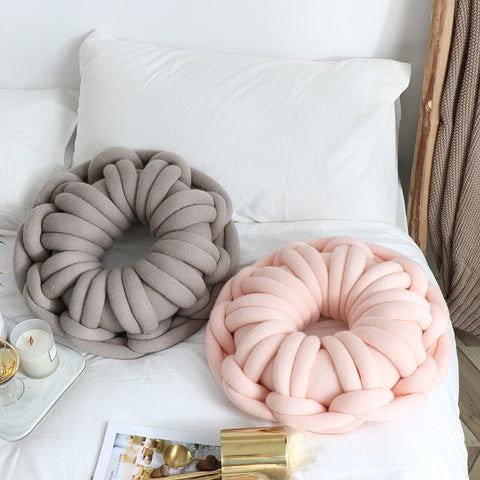 The pillow like sweet doughnut.It can suit many occasions.It has light and dark color to satisfy public demand.You can sit or depend on it to relax our body.The special shape and knotted design should become the advantage compared with other common pillow.Made of acrylic fibers.No smell ,no other harmful substances.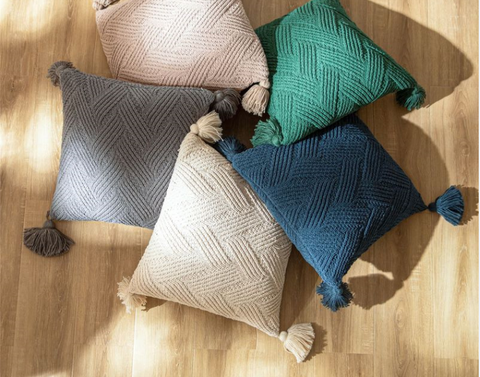 This knit cotton cushion cover brings a designer touch to your home decoration. Hidden zipper sewed with neat stitches, works smoothly. Reinforced seams avoid ripping or fraying, providing you durable using experience.With these pillow covers, your pillow inserts could keep away from dirt.With these pillow covers, you will get a warm support when you need to relax.With these pillow covers, your home could be bright up.
Made by 100% high quality polyester, both Sides. Delicate fabric surface,soft without reflection.
These classic cushion covers are available in several colors and sizes so you can choose to match with your new things or with the look you have at home.Rich Solid Color Throw Pillow Covers, Brings Luxury Look to Your Home Decoration.These Decorative Pillow Covers Are Made of Durable Poly Velvet,Comfortable and Super Soft Touch. With this removable throw pillow cover,you can change the decor of your room without throwing out your used and comfortable accent pillow or cushion.
Made of yarn-dyed fabric. Comfortable to touch. Embroidery style bud flower branch jacquard neat pattern gives a classic feeling.Classical embroidery jacquard bud branch pattern square decorative cushion cover.We use hidden zipper closure for an elegant look, easy insertion and washing.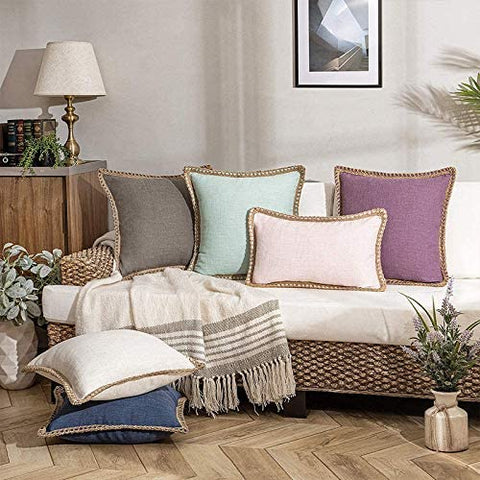 The set of 2 pillow covers are made by 100% high quality polyester, soft and skin-friendly, no fading or abrasion.These solid covers perfectly math with all styles of furniture, such as, bed, sofa, chair or car.Solid pillow covers with stitching trimmed edges, chic and stylish. Bringing a vintage and rustic farmhouse touch to your room. We use invisible zipper closure for an elegant look, easy insertion and washing.
Above all,you can click the picture to learn.
If you like ,no hesitation.take it right now.
Thanks for your attention!